Byebye 2005!
It has been an eventful year.
Rachel left and came back, so there was a WHOLE LOT OF TEARS.
He came, stomped on my heart and left it on the asphalt, even more tears.
But, there were many faces this year that lasted till NYE and I cannot be more grateful.
Nerd and Cheryl, my ex-housemate:brother&sister. You mean the world to me! You are family.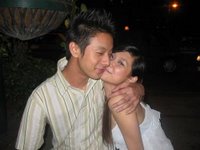 Nerd and Cheryl <3
The few who are in Belize, Perth, Newcastle, Melbourne and Michigan and everywhere around the world -_- You know who you are. I miss you so much you have no idea.
The night before NYE at Zouk was pretttyyyy trippy. I remember sitting at the stairs of the DJ console and bobbing my head to Jason's music. The lala-kia in me emerged. Went back to 9, danced in the bathroom and went to bed. Actually I crashed in Ah Heng's bed so he had to sleep with Kenny. HA-HA. A bit paiseh cause when I woke up, 2 was in the other room, 2 was in the hall, and 2 in Kenny's room. I took over Heng's bed, the most comfortable one in the house. Hero!
We woke up, lazed around..smoke smoke smoke and headed to LG. We got there and I re-united with my gilas. Rachel, Mel and Kim. For some reason we were all in black for NYE. HengKongKennyJourdang set up the steamboat while Arthur and Thomas were obedient boyfriends.
Where's Rachel?! Layan boyfriend. F-I-N-E.
And thennn..its on.
All my babies were with me when 2006 came! One in spirit.
We had good music throughout. Actually I had Tyler's Ipod and was mostly listening to Placebo, The Thrills and Led Zeppelin. I even put on Jimmy Eat World for Elle and I :D
Then the rest came back from work and we had our own private indoor rave haha.
Muka gone. That's Tyler. Tyler's my kaki&kakilang. Makan, Tyler. Club, Tyler. This, Tyler. That, Tyler. Multi-purpose yo! *xoxo*
Perry&Elle: Without which the vibe would not be complete.
I feel as if I have so much more to say. There is you, in my life now which makes everything a little more bearable, the cliches work again and I really appreciate it.