I used to think I'm crazy, extremely crazy. I thought that if I even looked away for a few minutes, he would be gone. But I was right, he's gone. But he left even while I was peering over the treetops. I hovered somewhere on a spectrum between a painful state of anxiety and an even more painful state of despair.
Promises, people make them all the time. And then they break them, just as many times as they've made them. When you say to someone "I love you" you absolutely mean it at the time but things change. But the assumption is that they lied, but they didn't, they meant it at the time they just didn't know to what degree. Logically, I understood this and took it to heart.
But I can't accept this idea wholeheartedly, because it is simply spurious. When I was dealing with my unhappiness, I always had a bipartite understanding of what was happening to me. I felt that for me, personally, I was in Hell; my pain as acute as third degree cancer cells on a dying body. But I see, not look. I've read and revised books on the Holocaust, the children who suffered under the dictatorship of Pol Pot, people starving in Sudan- but there is no comparison to be made because you can only live your own experience and for me, my life was in pretty bad shape. I used to think I had perspective, that I could be onto anyone and not be a fool. But what if I still am living in my own bubble where I only live my own experience? I will never escape.
So I find I could never again completely succumb to anything remotely sturdy because the assurance itself would drive me crazy; I kept my eye on every next thing which could hurt, right down to a Ribena bottled drink. The potential a choice of beverage had to hurt, summarizes my whole problem; its pandemic. SoI let it all go, of all I've collected because I fell for someone whom I knew I could not read and that mystery kept me going, I was convinced it was a fairy-tale. Till I fell hard on my ass, with my heart on the ashphalt that I realized he was human too. Pain is an intrinsic part of our existence, we cause pain and experience pain from the moment of our birth and here and there, left or right, many of us die in pain.
Dr. Armand M. Nicholi Jr and I see eye to eye on this: that the awareness of our mortality causes pain because what we us humans need most is permanence and our most pervasive fear is separation from the ones we love. Which at the end of the day, is irony and contradiction tossed like a salad, callously and carelessly. So why analyse? Why weigh options? Why ask IF?
I do what I do, like remember the people around the world who holds the pieces of my heart while I dance every Thursday with some who can keep a smile on my face for the night because they fill the lacuna between who I am and who I want to be; between what I think and what I want to feel. Despite all the pain I'm speaking of, I have experienced freedom from them but so far they have been much too brief. Hence when I am completely free, it has to be absolute. And that leads to pre-conceived ideas and judgments made for me which unfortunately is unavoidable. So I guess what I am really trying to say is that, math and science cannot go hand in hand because all the calculations in the world cannot equate the biology of the human heart, the chemisty between two pulsating persons, nor the physics of the mind movement.
But I'd like to pay tribute to the 3 to 4 hours of any week where I have complete freedom without having Rachel or Melanie playing the tourniquet to my soul.
Firstly,
DJ Goldfish aka Alvin Teoh:
provides the beats to my "freedom"
and Jung, the movements.
From left: Gary, Kin, Stephen, Terry and Max. My sense of belonging.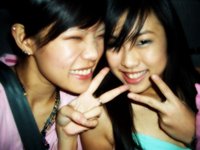 And she who without with, none would be possible, LaineJie.
I realize I could be stretching it a little, but here's all honesty and therefore yes, I am not sober at this very moment.